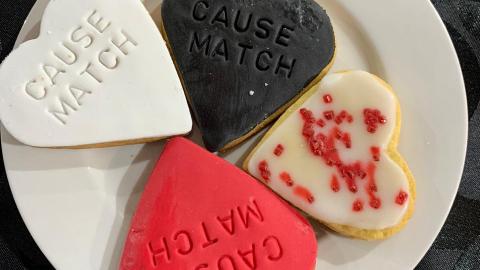 Over the past few weeks CityKidz has been collaborating with Causematch with the goal of filling the funding gap created by the COVID-19 Pandemic. A string of zoom meetings set the ball rolling and soon after that the beautiful Causematch video was filmed. Next, staff and learners were tasked with collecting contact numbers in order to create our fundraising database. A flurry of activity had begun.
Operating under the banner "Ensure CityKidz's Future" the CityKidz family spent Tuesday and Wednesday phoning contacts across the length and breadth of South Africa and beyond. Our learners, parents, staff, management and Director showed great tenacity, making call after call to friends and family and sometimes perfect (and imperfect) strangers for support. 
One of the highlights of this fundraiser was a visit by Solly Krok. Solly, now 91, is   well known for his multiple business successes. He is the man behind the creation of the Apartheid Museum and is well known for his commitment to philanthropy.  Solly not only joined in the dancing but also threw in a quip or two to make us laugh.
To date we have, due to donations both big and small, managed to raise close to R430 000 ( with more donations coming in). Although we have not yet reached our target we are proud of this achievement, knowing that every cent will be well spent on CityKidz. Currently Grade 4C are leading the Grade race with Grade 2C not far behind them. Grade RR are in third place. 
This fundraiser will be open for donations for another week. 
If you have not yet donated please go ahead and make a contribution. Join us in keeping the CityKidz School family going strong.
Lastly, a big thank you to our learners, parents, staff and our board for meeting such a big challenge. 
Image Gallery: CauseMatch Fundraiser
CauseMatch
Click to view slideshow
CauseMatch
Click to view slideshow
CauseMatch
Click to view slideshow
CauseMatch
Click to view slideshow
CauseMatch
Click to view slideshow
CauseMatch
Click to view slideshow
CauseMatch
Click to view slideshow